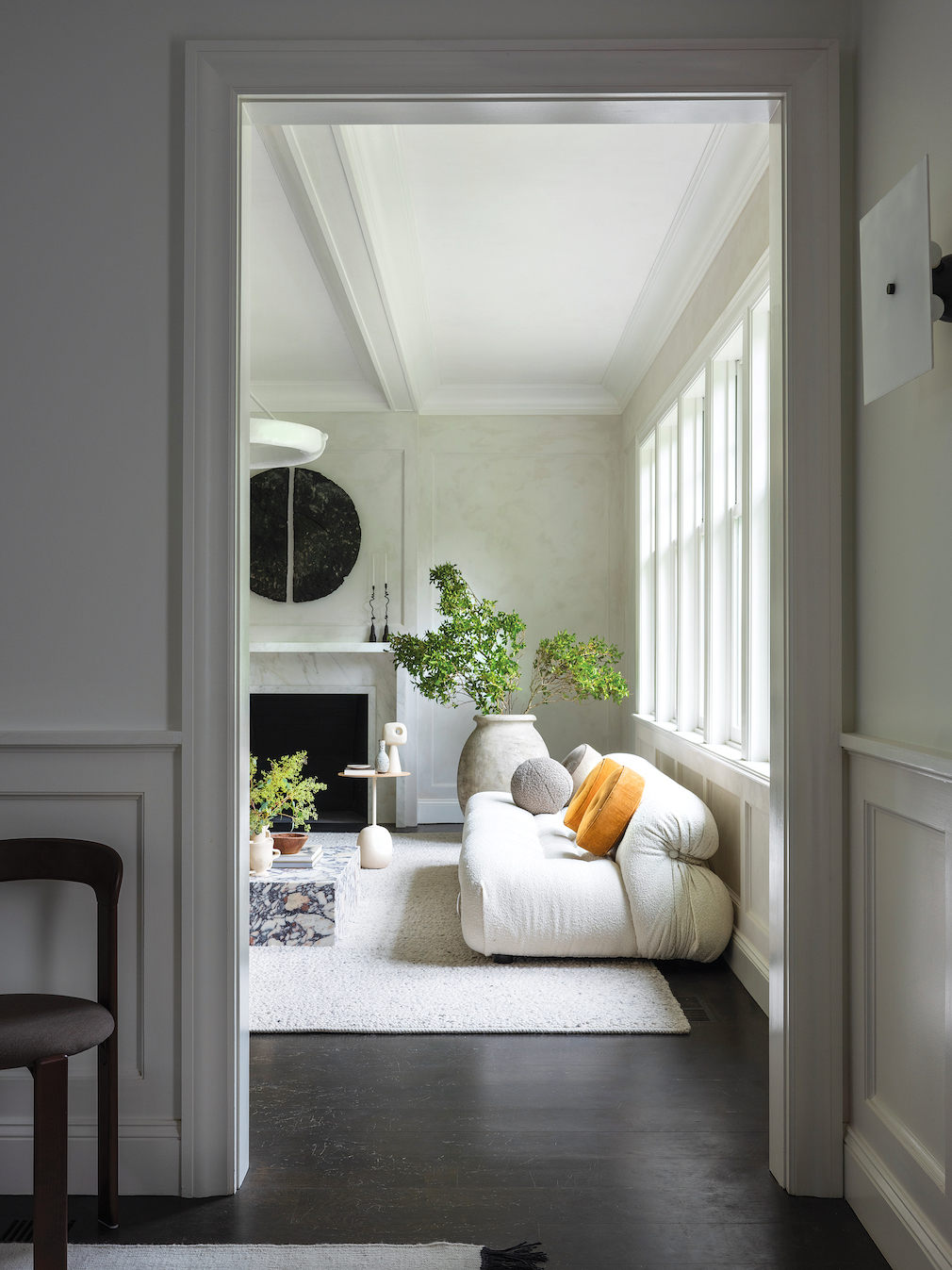 The disruptions of the pandemic and its aftermath have challenged interior designer Tara Kantor to rethink the four-level sprawling, shingle-style custom home she and her husband, Brian, built on a wooded lot in Scarsdale, New York a decade ago, an area they have loved setting down roots in.
In 2020, Kantor had begun meeting with clients on her covered porch to maintain social distancing. Even though life slowly returned to normal, she pondered continuing the practice by creating a studio space where she could receive clients. When the icemaker in her poolside bar sprung a leak that destroyed the cabinetry, it was the final nudge she needed to take on the reno. "We didn't change anything too drastically," she notes. "I just enhanced what was already an amazing space."
While the living room sported plaster walls and a classic marble fireplace, furnished as it was with a smallish sofa and a Ping-Pong table, it wasn't the most inviting spot to gather. Kantor incorporated a mix of upholstered pieces and case goods made with her favorite materials: think oak, marble, plaster, wool and mohair. "I'm very influenced by Parisian design, and there are little hints of that here," she admits. "It's a collected look."
Kantor then subdivided a large bathroom into a smaller bathroom and a walk-in closet to create space for her growing fabric and rug library. Additional fabrics are stored in an oxidized maple console staged with sculptural black-and-white pottery. "My house is filled with product from the vendors I work with, so it's beneficial for clients to see what the end result could be."
A plaster-ring chandelier softly lights the room while playing off the shape of the crushed concrete wall sculpture over the linear marble fireplace. Colorful mohair ring pillows and a small, round side table continue the alliteration of curvaceous shapes. "I am drawn to curves because they make a space feel warm," Kantor shares. "When a space is as minimalistic as this, you have to bring in warmth in other ways."
Indeed, Kantor's two young sons often curl up on the low-slung, boucle-covered sofa, though it is designed mostly for use by clients. And a sculptural oak table and boucle-covered side chairs near the fireplace serve for both client meetings and overflow at holiday gatherings. A sleek black arm sconce softly illuminates the vignette. Kantor states, "I wanted the space to be white and bright, but every room should have a kiss of black for contrast." The dark veining in the monolithic, rectangular Viola marble cocktail table drives her point home.
Determined to create a one-of-a-kind interior, Kantor also designed several pieces, including the wavy mirror and console table in the front foyer and, in collaboration with Thomas Hayes, the stools at the kitchen island. Made with oak, faux leather and shearling, they nicely juxtapose the classic white cabinetry and marble countertops.
Post renovation, Kantor has fallen in love with her home all over again. While establishing the right vibe is always important in any design, she insists that it's the comfort and functionality that make it special.
Photography by Adam Kane Macchia.
For more like this renovation from Tara Kantor, be sure to check out this soothing space in San Francisco.
Like what you see? Get it first with a subscription to aspire design and home magazine.