NYC and Ohio-based Julie Paulino creates interiors that are a personal reflection of her client's lifestyle, with a sophisticated yet relaxed approach. She believes that living beautifully goes beyond the visual– it's a lifestyle where all the senses are at play. Julie's initiation into Interior Design started as a Vintage furniture dealer, with an outpost in Stamford, CT. Raised in the melting pot of New York City, her exposure to such a multicultural and diverse upbringing granted her a profound understanding of global and refined aesthetics. Learn more about Julie and her designs in today's Designer Friday.
This traditional Edwardian-style sitting room has added flare with the brass palm tree and decorative glass chandelier hanging above.
Andrew Joseph: Describe your design style as if you were explaining it to someone who cannot see.
Julie Paulino: First, it is authentic to my client's lifestyle and way of living. It enhances their daily lives by means of functionality but also by textures, harmonious colors, and smart accessorizing. You'll find curves and less rough and straight edges. Comfort is paramount in every room I design because you won't only look at the spaces, you will actually live in them. So functionality and comfort comes first. When it's done with good taste it delivers beauty in different ways and every time.
AJ: What's inspiring you in life (in the industry) right now?
JP: I'm inspired by new possibilities and big dreams hence, my online store, Julie & Ev, a globally inspired and sourced homeware store, which I launched along with my husband in 2020, right in the middle of the pandemic. It's a store that came as a result of my second biggest inspiration: travel.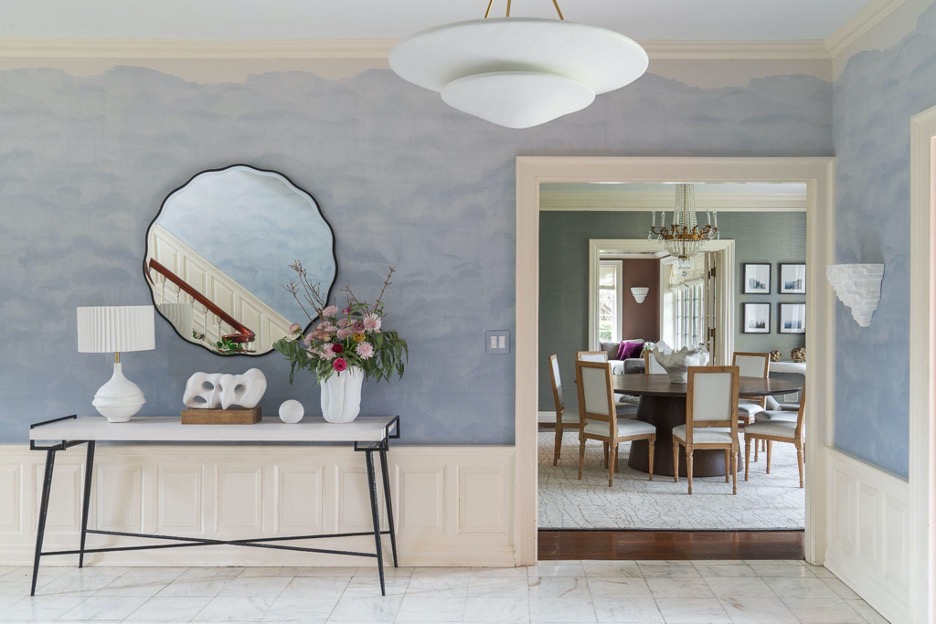 The combination of the mountainous, textural wallpaper in powdery blue, marble tile flooring, marble console table, and a wall mirror that mimics the peaks and curves of a mountainside, make for a timeless and serene entryway into this home.
AJ: What is something you hope to see trending in design in the future?
JP: I'd love to see more antiques and vintage pieces being used. Vintage furniture, either heirloom passed down through generations or recently purchased ones add weight and substance to any room. It is also perfectly permissible to reuse furniture and give it new life by upholstering them in new fabric; not everything needs to be new. It's also the most Earth-conscious thing we can do.
AJ: If you could be any animal in the world, what animal would you be and why?
JP: A panda. Pandas seem to have discovered the true meaning of dolce far niente all while being happy. Did you know that Panda cuddling is a real job trade in China? I'll take that job anytime.
This coastal corner features shiplap paneling and a seashell-inspired plaster mirror.
AJ: Best advice you'd give your teenage self?
JP: Never, ever underestimate the power of blogging. My blog Belle Vivir was the first blog of its kind on the island of Manhattan. Unfortunately, I didn't have the vision and took it for granted. Others that started after me have gone on to publish books and create personal brands. I would be in a much better place today if I understood what branding was back then.
AJ: What do you find yourself daydreaming about most these days?
JP: My next mansion, my next Porsche Panamera, a Cartier watch, going to Hermes often to actually buy, you know the usual.
AJ: Style (or design) icon?
JP: Lauren Santo Domingo. I really admire people who don't have a herd mentality when it comes to lifestyle and fashion choices. She is a real trendsetter and risk-taker.
---
About the Designer | Julie Paulino Design, an Interior Design company operating in New York and Ohio and serving clients nationwide, specializes in interior architecture and decoration. Our comprehensive range of services covers every aspect of the design process, including space planning, sourcing, budgeting, art acquisitions, and final installation.
Julie's design aesthetic was honed through her studies at Parsons School of Design and her experience living in Europe with her family. Her journey in Interior Design began as a Vintage furniture dealer with a store in Stamford, CT. Growing up in the culturally diverse environment of New York City provided her with a deep understanding of refined aesthetics from around the world.
During her time abroad, Julie achieved great acclaim with her jewelry line, Tyche Jewelry, which was featured in numerous international publications. More recently, she launched an online concept store called Julie and Ev. It offers a socially sourced, globally curated selection of home decor, tabletops, and fashion accessories for conscious buyers.
Like what you see? Get it first with a subscription to aspire design and home magazine.