From moody floral motifs, to bright botanical patterns, these 17 designers are expertly utilizing flora and fauna to enliven their designs.
HOUSTON, TX
Design: Marie Flanigan Interiors
When designing a room for her newborn daughter, Marie Flanigan wanted a space that looked and felt like a secret garden. A custom-ordered mural from Rebel Walls helped create an energetic, youthful yet still sophisticated palette, and a bright fun place for her to grow.
NEW YORK, NY
Design: D'Aquino Monaco
Photography by Costas Picadas
In the main dining room of Sel Rose Montauk, an oversized, hand-painted mural by Candice Kaye Design meanders above and below the banquettes, and around the existing architectural elements in the space.
BROOKLYN, NY
Design: Circa 22 Design Studio
Photography: Tom Benedict
For the 2022 Brooklyn Heights Designer Showhouse, Circa 22 brought the outdoors in to create a welcoming, all-season escape. The wall-size mural of a modern Chinoiserie motif from Flavor Paper provides a serene backdrop and focal point.
FRANKLIN, MI
Design: Elizabeth Fields
Photography: Dustin Halleck
In a nursery, designer Elizabeth Fields customized a Rebel Walls wallcovering until its florals became dramatically oversized. "That wallpaper started off as a very tiny pattern," Fields recalls. The end result climbs up the walls and ceiling in breathtaking fashion.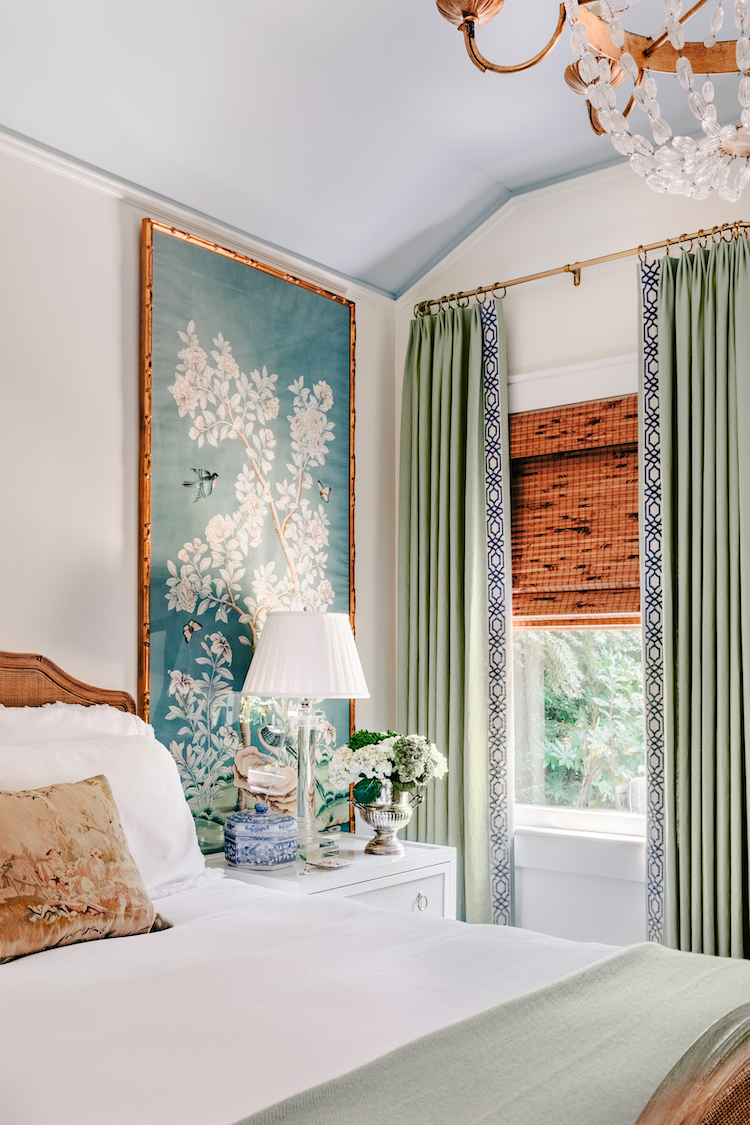 GREENVILLE, SC
Design: Caroline Brackett
Photography: Emily Bolt
In a light, bright bedroom, Caroline Brackett utilized custom-painted Gracie panels for both sophisticated decor, and the inspiration for the other colors used in the room.
TENAFLY, NJ
Design: Clive Christian Kitchens
Photography: Phillip Ennis
Alyson O'Hanlon and Valerie Corsaro, of Clive Christian Kitchens, created this glamorous butler's pantry designed for casual entertaining. High-gloss black cabinetry by Clive Christian pairs with an oversized floral wallcovering from Pierre Frey.
JOHANNESBURG, SOUTH AFRICA
Design: The Storer
Photography: Elsa Young
A graphic wallpaper from Cara Saven was the starting point for this bedroom. "As this room was designed for my daughter, the idea was to keep it soft and light, drawing on the wallpaper for color and impact," shares designer Lisa Storer.
GOTHENBURG, SWEDEN
Design: Linda Staaw
Photography: Johanna Hagbard
Finding the right wallcoverings for her lush apartment was never a fait accompli for Linda Staaw. It took three tries to get the hallway wallcovering just right — it is a small space with very high ceilings and no natural light, the perfect paper was needed so the walls did not fall flat. The winning result is a small-scale botanical pattern that houses a gallery of framed artwork celebrates significant places in the Staaws' lives.
AUSTIN, TX
Design: Etch Design Group
Photography: Avery Martin, Avery Nicole Photo
For a client who gravitates towards fun and funky patterns and colors, bold prints and antiques, fruit trees offer a welcome respite from traditional floral designs. "The wallpaper was an immediate winner, as it provided a wide assortment of colors to work with in the space," concludes designer Jessica Nelson.
CAP FERRET, FRANCE
Design: Joanne de Lépinay
Photography: Cécile Perrinet-Lhermitte
Wrapped in a jazzy custom botanical wallpaper, this dining room includes Chippendale-style chairs and an antique Chinese cabinet re-lacquered in an eye-popping purple.
CAPE TOWN, SOUTH AFRICA
Design: Charlotte Collins
Photography: Warren Heath
Inside her 'pool room' guest suite, Charlotte Collins selected a bold floral wallpaper by Ellie Cashman to pair with an old vintage bed from Paarl vintage store Koöperasie Stories.
PORTLAND, OR
Design: OfficeUntitled, Staicoff Design Company, and Smith Hanes Studio
Taking cues from the city's natural surroundings, striking custom-designed wallpapers illustrating flora found in Portland's Forrest Park and framed botanical works by featured artist, Imogen Cunningham, stand out in rooms of The Woodlark Hotel.
BETHESDA, MD
Design: Kelley Proxmire
Photography: Kip Dawkins
A nature-inspired Gracie Wallpaper is on four walls of this dining room in a client's home in Washington, D.C. The walls include separate handpainted panels, aligned in succession to create the effect of a mural.
MILAN, ITALY
Design: Nap Atelier
Photography: Fabrizio Cicconi
Stefania Passera's easygoing home in Milwan rides on a palette of pink and green, and delicate floral accents. Pictured here: two separate bedrooms take differing but complementary approaches to botanical motifs.
BERNARDSVILLE, NJ
Design: Sandy Cabellis
Photography: Lisa Russman
Sandy Cabelis designed a den in the 2020 Aspire House: Heritage at Claremont, to be a soothing getaway space. The large floral wallcovering in bright greens and neutrals brings the soothing qualities of nature into the room, while the dark ceiling adds warmth and coziness.
RICHMOND, VA
Design: Gary Inman and Dani Blake, Baskervill
Photography: Kip Dawkins
In this dining room, Gary Inman embraced the deeply-rooted local tradition seen in the great James River houses of using scenic wallpaper, opting for a pattern from de Gournay depicting birds perched on delicate, white-bloomed tree limbs. "One of the things my clients spoke of the most was nature," shares Inman. "So bringing in a sense of outdoors really drove our decisions."
PARK CITY, UT
Architecture: Sparano + Mooney
Photography: Scot Zimmerman
A self-proclaimed pattern freak, there are stripes, arrangements and colorful art and accessories throughout Gwen Reddish's home. However, the lone architectural pattern is one she developed for railings. The stairs, an outside patio and a second-story walkway come to life with the design, inspired by snowflakes, flowers and an old Moroccan pattern.
Like what you see? Get it first with a subscription to aspire design and home magazine.